Masha Alorstein, BORN 1977
The Hydraclean treatment is designed to cleanse the face paying particular attention to the T-zone, thanks to the only treatment method of its kind in the world.

The 30-minute treatment combines deep cleansing and a relaxing massage, leaving the skin clear and radiant.

The deep cleansing combines two powerful active ingredients in the cleansing gel:
Salycylic Acid: anti-bacterial and exfoliating.
Lipacid: regulates excess sebum.
THE ALTERNATIVE TO AESTHETIC MEDICINE
Using a combination of Dynamic Ionisation, Thermal Energy and Lifting Stimulation, Guinot's patented technology will allow you to achieve visible clinically proven results after just one treatment.
The skin cells are reawakened. oxygen levels within the skin are increased, cellular regeneration is accelerated and toxins are eliminated, revealing a brighter, more youthful appearance.
Hydraderm Cellular Energy
For more than 40 years, GUINOT's mission has been to make women more beautiful using exclusive and innovative beauty care methods.
The son of a plastic surgeon, Jean Daniel Mondin, GUINOT's Chairman and CEO, chose to study pharmacy and obtained a doctorate. Endowed with the expertise thus gained, Jean Daniel Mondin redefined the concept of "cosmetics" through his own perspective and his medical roots.
He is one of the few people in the world heading a cosmetics company who has also achieved a high calibre scientific degree. His education prompted him to establish a technologically advanced laboratory implementing the accuracy of pharmaceutical standards.
The Age Summum Treatment is the alternative to plastic surgery for treating immediately signs of ageing : wrinkles and fines lines, loss of firmness, lack of radiance. During the treatment, the precious anti-ageing active ingredients directly act on signs of ageing :
- Pure vitamin C: stimulates the synthesis of collagen and provides antioxidant action for exceptional radiance.
Hyaluronic Acid filler spheres: smooth away wrinkles.
Pro-Collagen: stimulates the synthesis of collagen and fights against cutaneous slackening
In less than 1 hour of treatment, the face appears several years younger. The skin's surface looks more youthful. Wrinkles and fine lines are filled in and immediately smoothed away.
Skin texture is refined and the skin recovers a youthful radiant glow.
Turn over a new leaf in less than an hour... Beauté Neuve is a treatment which removes dead cells responsible for dull complexions and reduces the appearance pigmentation marks.
A complex of fruit acids, to gently peel off dead cells.

Vitamin C lightens pigmentation marks

Have the Beauté Neuve treatment on a treatment-by-treatment basis for radiance and to regain luminous skin.

Or have an initial course of three Beauté Neuve treatments, followed by a maintenance treatment every four weeks for a lightening, depigmenting and anti-mark action.
The Eye Logic Treatment is a contouring treatment that targets the very delicate eye area in just 40 minutes. This 3 Step Treatment will help eliminate wrinkles, puffiness and dark circles around the eye area.
Eye Serum Gel Ionization
Helps drain puffiness around the eyes
Decongest dark circles
Eye Contour Massage
Tones the skin
Lifts the eye contour
Eye Contour Mask
An exclusive GUINOT patented shape, specially designed to provide extensive contact with the skin. The thin fabric and specific form perfectly adhere to the eye contour
Creates an instant "lifting effect" thanks to its firming active ingredient
With any of our Guinot facials courses of between 6-12 treatments are advised for longer lasting benefits and results. For any courses of treatments purchased you will receive a 10% discount. You can mix and match any of our Guinot facials.
An immediate lift effect treatment by means of facial muscle stimulation.
The Biopeptides, in the Serum Gel Anti-Rides, recreate the skin's elasticity, combined with the stimulating effect of special currents, which allow for facial muscle stimulation. After the first treatment, you will see the visible results of lifted facial features. The skin has regained its tone and surface wrinkles have faded. This method is like "body building" for the face.
Results can be seen from the first treatment. To maintain these results, it is recommended you start with three treatments within one week, followed by one maintenance treatment per month.
(Incorporating both the Hydraderm Age Logic and the Hydraderm Lift)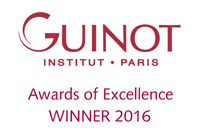 To firm the skin and tighten the features, in order to rejuvenate the appearance of the face. A unique treatment method combining firming, regenerating active ingredients with Masque Thermolift, which diffuses heat to improve penetration and cell activity.
As soon as the treatment is over, you will visibly see a younger looking complexion and facial features that are lifted and firmer.
The perfect treatment to alternate alongside our Hydradermie Lifting Facial.
You will feel incredibly relaxed and your skin will regain suppleness, radiance and softness. The Aromatic Facial is a soothing treatment that combines essential oils, a plant concentrate mask and massage to hydrate, balance and energize the skin.
Benefits
Relaxes facial features
Reduces wrinkles
Minimizes oil secretion
Calms and smoothes the skin
Restores radiance
Hydraderm Lift Deluxe - 1hr:45mins
Treatment: 40 mins
(suitable for all eye skin concerns)
Recommended course of 6
treatments, one a week
Hydraderm cellular engergy: 1 hour
Hydraderm Age Logic: 1.5 hour
BEAUTY - SKIN CARE - LASER CLINIC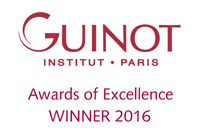 BEAUTY - SKIN CARE - LASER CLINIC