Address:
Tao Skin Care & Laser Clinic, 49 Queen Street, Exeter, EX4 3SR
Monday - Tuesday 9:30am - 6:00pm Wednesday - Thursday 9:30am - 8:00pm Friday 9:30am - 6:00pm Saturday 9:00 - 4:00pm
Over the years we have won several awards from organisations and skincare houses the latest being our Guinot Crown Salon Award 2016, 2017,2018 plus a Business Growth Award 2016. We are extremely proud and privileged to have accepted this award for outstanding excellence, for our dedication to our customers and in developing our services here at Tao Skin Care & Laser Clinic.
We have also a 5 Star rating from SALONSPY reviews 2019 and 2020.
Parking is available opposite at Isca Place or at Bystock Square or there's street parking. Shopping is a gentle 5 minute walk along Queen Street into Exeter's cosmopolitan shopping centre.
BEAUTY - SKIN CARE - LASER CLINIC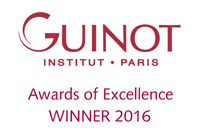 BEAUTY - SKIN CARE - LASER CLINIC